Environment
As LED lighting is much more energy efficient by upgrading your lighting you will be positively influencing the environment. LED lights contain no harmful chemicals unlike traditional fittings which can contain mercury and other hazardous materials.
Controls
LED Lighting can be fitted with a number of controls such as daylight sensing, motion sensing, dimmable and a number of monitoring options so you can get the most from your lighting.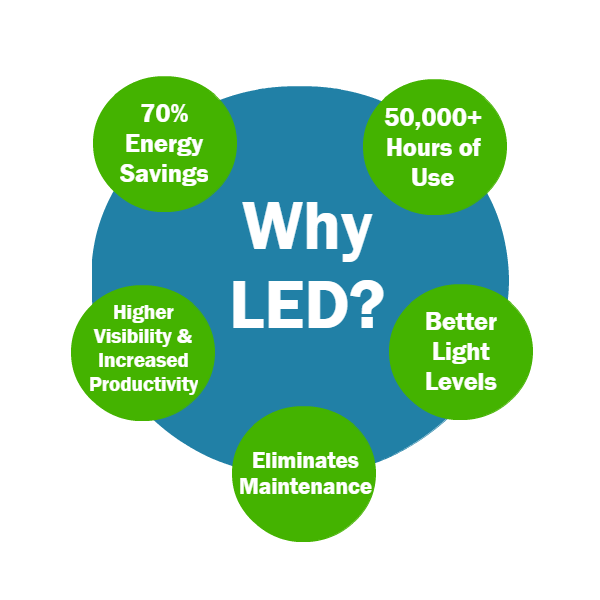 Long Life
LED lights on average have an estimated life of 50,000+ hours of use. This means they last much longer compared to traditional fluorescent and incandescent bulbs and do not need to be changed as frequently.
Working Conditions
LED's provide improved lighting in work environments, increasing productivity and providing improved visibility and less glare. They also help improve health and safety in the workplace.
Eliminated Maintenance
Due to their long life, LED lights eliminate the time and costs incurred by traditional lighting.
Energy Efficient
Lighting can cause significant energy costs for a business. By upgrading to LED your business could see energy savings of up to 80%, meaning much lower energy costs. As LED's have low running temperature very little energy is wasted on heat, as seen with traditional types of light.
Safe
LED lamps/luminaires provide a long lasting and impressive level of lighting and contain NO harmful chemicals. They retain their true colour and start instantly throughout their life.